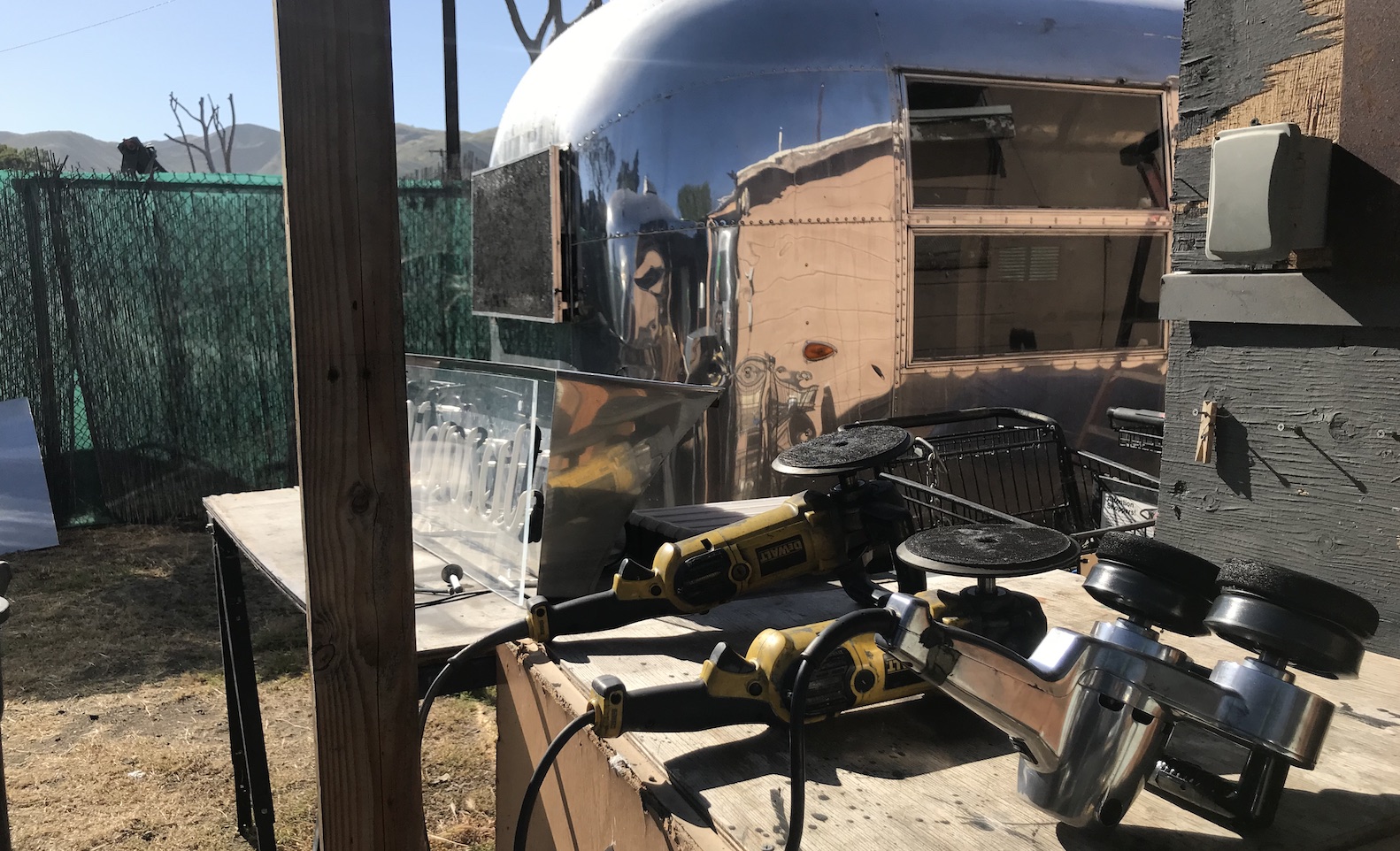 So you're fixing to polish your Airstream? First things first, you will need the right tools!
Polishing the aluminum on an Airstream trailer or other vintage travel trailer is an art, and as they say, every good artist is only as good as their tools. The main tool you'll be using to polish your Airstream is a rotary polisher with wool compounding pads. Since polishing an Airstream can take between 50 to 150 man hours, you want to make sure you have the right buffer for the job to ensure you don't make the job twice as long or twice as difficult with an underpowered or overweight buffer.
If you're ready to tackle polishing your own Airstream, here are some of my recommendations to ensure you get that mirror shine:
DEWALT SOFT START VARIABLE SPEED POLISHER (DWP849X)
The Budget-Friendly Buffer
For a great buffer that will stand the test of time and not break the bank the Dewalt Variable Speed is my recommendation. At a relatively cheap cost it provides the power and durability needed to polish your trailer while also coming standard with a 7 inch head. It does not come with any warranty but its performance can be trusted to get you through the job.
FESTOOL SHINEX ROTARY POLISHER (RAP 150-21 FE)
The Pro's Buffer
The FesTool RAP 150 is a German-made, reliable, and sleek tool for those of you who are looking to buy the highest quality buffer on the market. It comes equipped with the following features.
Varible speed settings allow a range of speeds between 400 and 2100 RPM
Lightweight, balanced design prevents fatigue during extended use
Themal overload protection protects the tool from damage from overheating
Why is a variable speed trigger important? With the Variable speed trigger, you can adjust power as you buff and polish into certain areas. The trigger enables you to be able to control the speed of the buffer head and adjust it on the fly without compromising your position. It has a slim body and is extremely light and easier to use because of its design. The 10ft power cord makes it easier to cover more area without having to reposition.
The design and weight of the buffer combined with the power and durability that FesTool offers  make it the best buffer to buy for polishing a Airstream trailer. FesTool power tools also come with a warranty, so if anything goes wrong you can send it in for repair, free of charge.
A Note on Buffer Head Sizes
The FesTool RAP 150 comes standard with a 6 inch head, which is smaller than the traditional 7 inch heads that the Dewalt and Makita buffers come with. This can be good for getting into small areas, but you will want to order the adapter so you can also connect to a 7 inch pad.  Why would you want a 7 inch head over a 6 inch head? The 6 inch head can get in around the windows, trim or hard to reach areas behind propane tanks or in tight areas. You will want the 7 inch head for majority of the trailer as can cover more area at one time with a bigger pad.
Why I Use Festool at CF Detailing
When I was contracted to polish in Rhode Island at Dorch Design, I was turned onto FesTool products and their sheer superiority to the majority of other brands that I was familiar with. As soon as I held this buffer in my hand it was clear it was much lighter and therefore going to be easier on my body over time. Though it is more expensive, I would recommend buying a FesTool if you plan on polishing your trailer frequently and you desire the best there is on the market. The buffer also comes with a warranty that FesTool will replace the buffer if there is any defects.  Be sure to register your buffer once you have purchased it.
THE CYCLO POLISHER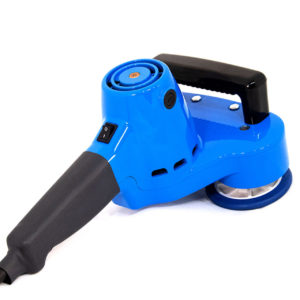 Final Polish Buffer for Swirl Mark Removal
Once you have cut through your trailer's oxidation, revealing that beautiful mirror finish, you may start to notice "worm-like" or "squiggly line" type reflection marks appear. In the shade, your surface appears to be a perfect reflection, but when the sun hits you're left scratching your head as to why these marks appear. The solution for this problem is to switch to a random orbital buffer. The Cyclo Dual Orbiting Buffer is the magic step that will take your trailers finish to the next level! Not only does it remove reflection marks, it also helps condition and protect your aluminum by adding an extra layer of shine and wax.
The Cyclo Buffer's unique design has been used for aircraft aluminum polishing for over 50 years. It still keeps it's sleek look but has been updated over the years to include a control speed knob. This is a necessary tool to have, and is considered the final step in the process of polishing your trailer. The Cyclo Buffer also works great for touch ups and repolishing/ waxing of your trailer's skin.